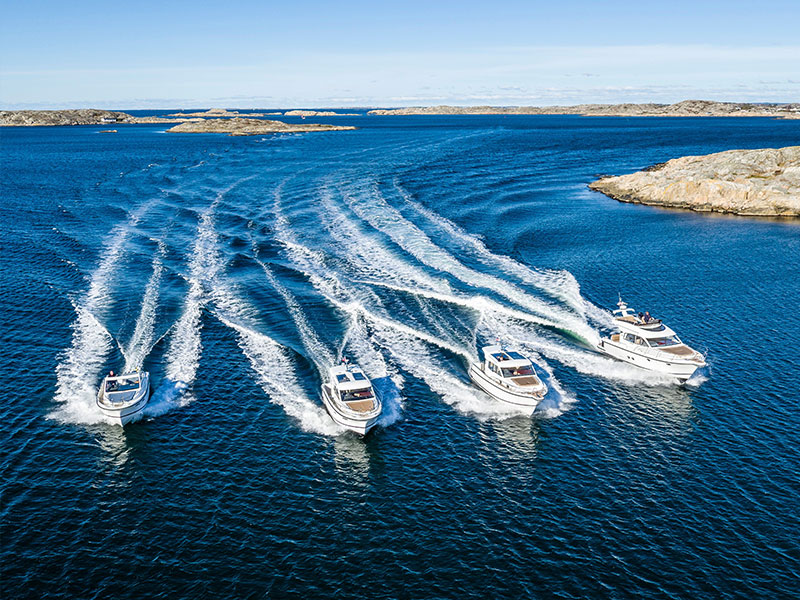 TYPES OF YACHTS
Whether you're a fishing enthusiast or just love spending family time on the open water, you'll want to invest in the type of yacht that best fits your preferences and priorities. From sleek sport cruisers and motor yachts to trawlers and walkarounds, Yachting Solutions offers a range of vessels that cater to our customer's needs and lifestyles.
Feeling a little lost at sea? We've compiled a list of popular yacht types to help you navigate the differences among these luxury vessels:
Cabin cruisers offer sleeping berths and a compact galley to make weekend excursions more comfortable. Small cabin cruisers have room for up to six passengers, while larger yachts offer staterooms to accommodate 12 or more guests.
Avid anglers love this type of yacht. With the helm station in the center of the boat, this design maximizes deck space and leaves the bow and aft cockpits open, giving you 360 degrees to cast lines and net a great catch.
Capable of taking on lakes, bays, and open ocean, dual console yachts offer a starboard seat for the helm and a port-side passenger console. This yacht design allows you to walk from bow to stern, so you can indulge in a day of lounging or fishing on the deck.
Flybridge yachts elevate island tours and entertaining. With a deck set above the main bridge and a second helm, the skipper and passengers have the perfect vantage point for breathtaking views with ample space to socialize.
Dreaming of distant ports and luxurious surroundings? Motor yachts in the 40-to-90-foot range equipped with roomy private cabins, full galleys, and elite amenities provide maximum comfort and convenience on every journey.
Different hull designs for sport cruisers, like a deep vee for choppy waters or modified vee for freshwater fun, ensure the best performance for overnights and day cruising. Depending on their size, sport cruisers can accommodate 10 to 18 passengers.
Engineered for serious anglers, sport fishing yachts have a galley and sleeping berths with systems built for long-distance trips and ample speed for fast runs to prime fishing grounds. Rod holders, freezers, and fighting chairs take game fishing to a whole new level.
When slowing the pace and enjoying the ride is your goal, a trawler yacht gives you all the comforts of home for long-distance offshore voyages. Ideal for sight-seeing excursions, trawler salons feature large windows to ensure you can take in the view.
Are family fun days, fishing trips, and overnight outings at the top of your boat buying list? Walkarounds combine cabin and center console yacht types, giving you a couple of comfy berths, a small head, and a compact galley with an accessible deck for handling lines.
Understanding different types of yachts, hull designs, sizes, and features can help you narrow down your choices, so you can invest in a vessel that suits your preferences and lifestyle. Ready for a new adventure? Contact the Yachting Solutions sales team to learn more about your favorite yacht type or discover even more possibilities.