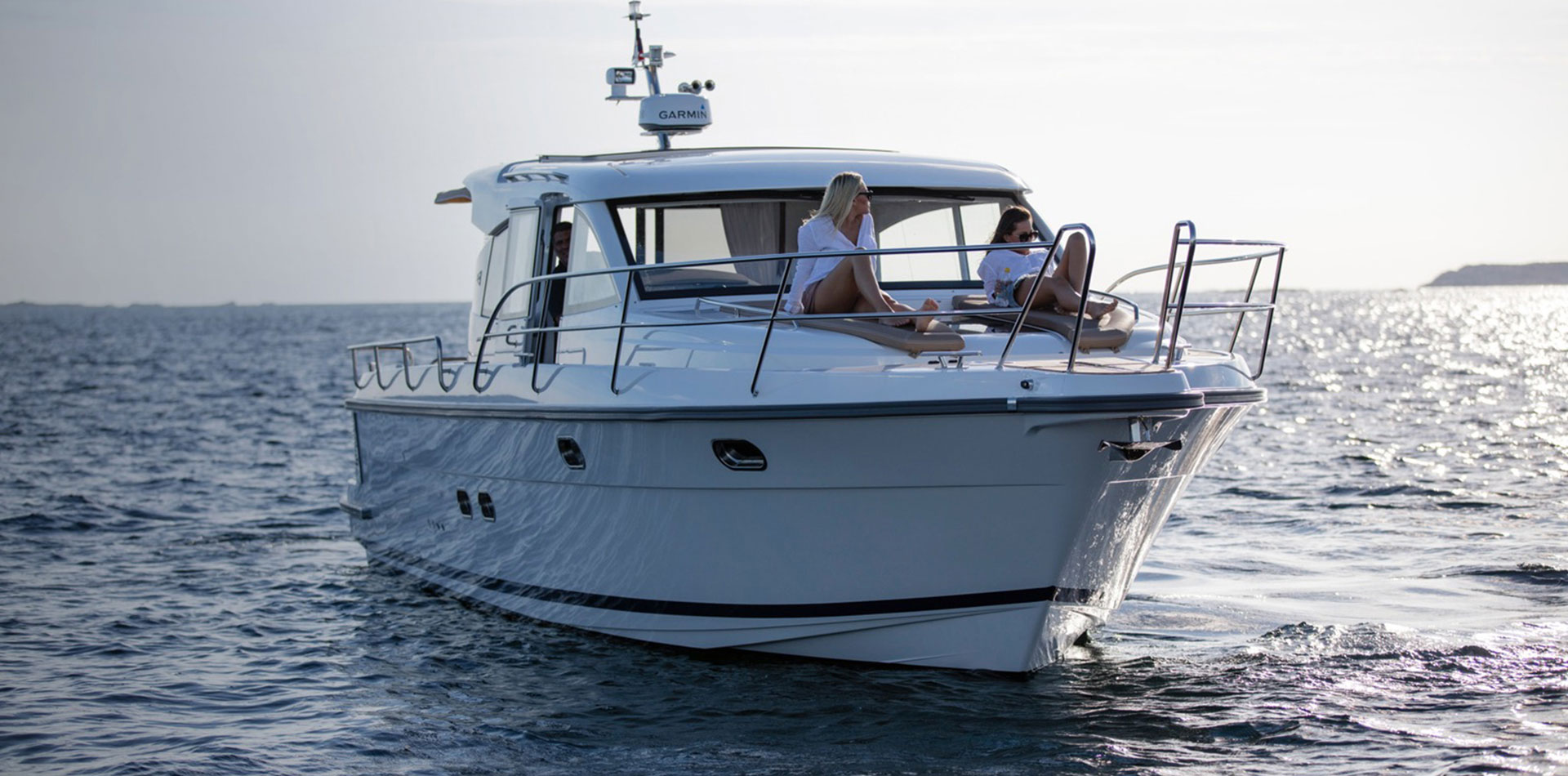 405 COUPE
---
The Flagship has Arrived!
43,8 ft
Cruiser
The Swedish built Nimbus 405 Coupé is the largest boat in the Nimbus Coupé Series, which includes the 305 Coupé and 365 Coupé. The 405 Coupé is built using the same "sidewalk" concept as the award winning 365 Coupé and which was voted "European Power Boat of the Year 2012"
KEY STANDARD FEATURES
---
Large electric sliding glass roof with integrated sun blinds
Master Cabin with ensuite bathroom
The dining table folds down into a cocktail table with glass holders, perfect for socializing.
Carpets in Cabin
Aft Deck Lounge
Separate closed head in cabin, incl. shower & electric freshwater toilet.

TECHNICAL SPECIFICATIONS
Overall: 13,33 m / 43,8 ft

Length of hull: 13,16 m / 43,2 ft

Overall beam: 3,86 m / 12,7 ft

Beam of hull: 3,75 m / 12,3 ft

Air draught: 4,23 m / 13,9 ft

Air Draught, Folded mast: 3,9 m / 12,8 ft

Transport height: 3,8 m / 12,5 ft

Transport height in cradle: 4,00 m / 13,2 ft

Draught: 1,05 m / 3,5 ft

Centre of gravity: 4,05 m / 13,3 ft

Max weight allowed (2 x D4/2 x D6): 12332/12582 kg / 25574 / 26125 lbs

Weight: 9397/9647 kg / 20720/21272 lbs

Max total load: 2900 kg / 6393 lbs

Max people: 12 Pers.

CE category: B8/C12

Cabins: 3

Berths: 6

CAPACITY OF TANKS
Fuel capacity: 2 x500 l / 2 x 132 US gal

Water capacity: 2 x 200 l / 2 x 52,8 US gal

Hot Water capacity: 40 l / 10,57 US gal

Waste capacity: 135 l / 35,7 US gal

STANDARD EQUIPMENT
Volvo Penta 2 x D4-320 Shaft (640 hp)
Plotter Simrad 12" NSS EVO 3
Anchorwinch, el front, incl foot control, 21kg-45m-8mm
Shore power and battery charger Mastervolt 50A
Bow thruster Sleipner SE 80
Heater Ebersprächer D5
Defroster
Hot water system Isotemp SPA 40L
Interval viper
Radio Fusion 205 USB/ 3,5mm aux
Eco-Teak, complete boat
Shower in toilet room / Shower cabin
Trimtabs
Trip computer Volvo Penta
Depth / Log Volvo Penta
Marine varnished mahogany interior
Electric toilet x2
Electric pump out for toilets
Sunblind, internal coupé roof
LED lights in whole boat
Dining table folds down into cocktail table
Top View (T-Top)

Top View

Volvo Penta 2 x D4-380 Shaft (760 hp)

Volvo Penta 2 x D4-320 Shaft (640 hp)
A Nimbus 405 Coupe is the ultimate power cruising craft for those looking to explore the open water in comfort and style. Like other vessels in the Coupe series, this model delivers efficient performance and elegant design. Features like touchscreen controls at the helm, wraparound windscreens, and an asymmetrical sidewalk layout provide everything you need for a fun and relaxing pleasure cruise.
With its functional amenities and minimalist Scandinavian design, the Nimbus 405 Coupe makes life at sea comfy and luxurious. A spacious saloon with expandable seating and dining areas lets you enjoy meals and conversation, while a roomy cabin and ensuite head keep you cozy during overnight trips. Also, sliding glass roofs and wide windows increase natural light for a stunning, luminous look.
The simple, adaptable design of the Nimbus 405 Coupe is ideal for seasoned mariners looking for a practical vessel and families seeking a cozy, comfortable craft for their next aquatic adventure. Select a Nimbus 405 Coupes for sale at Yachting Solutions to get custom installed features like dishwashers, ovens, and other travel and entertainment essentials that make your voyages incredible.

405 COUPÉ
---
The Flagship has Arrived!