PROFESSIONAL ALUMINUM BOATS
Professional grade and purposefully-built, prepared to take you on any task.
Our "A- Series" Deep V models are designed to handle all weather conditions the elements can dish up. Their rugged yet lightweight aluminum hulls along with the tough 1670 D-tex CSM fabric make them the ideal boat for any rescue or commercial operation. These boats can be customized for any use with a variety of seats and consoles to suit any need. They are the most versatile professional RIBs on the market today.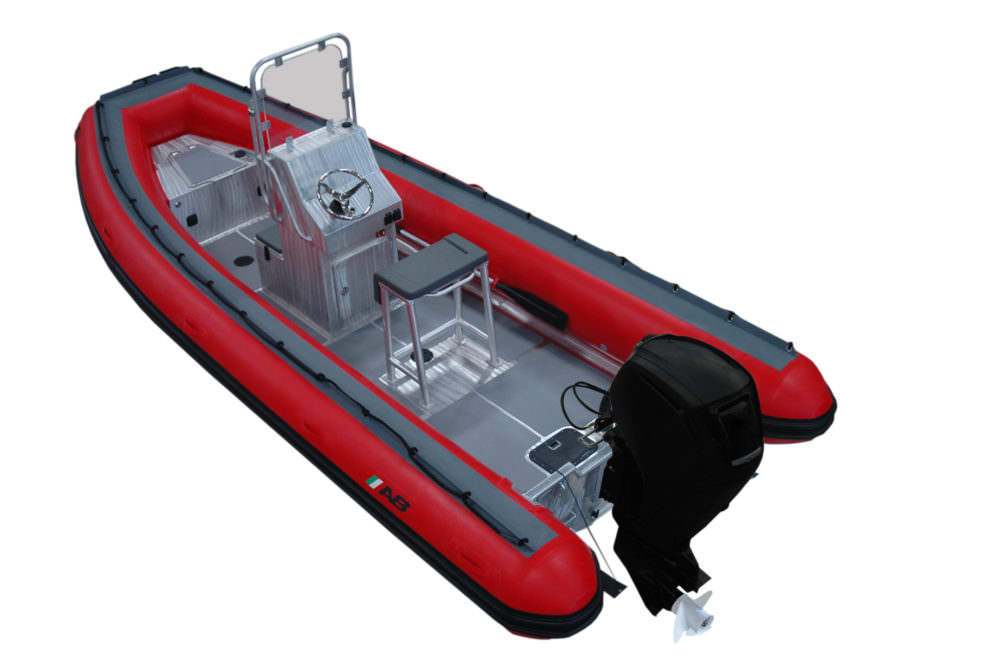 Bow Locker
Large Square Transom Alum. Reinforced Base
Extra Heavy Duty Stringers and "V"Hull
Non-skid (CSM) Fabric on Tube
NMMA Certified Aluminum Fuel Tank
Pressure Relief Valves
Ultra High Quality Welding
Bow U bolt and lateral towing eyes
Double Solid Rubrail
Heavy Duty "Aluminum" Keel Protector
"V" Hull
1670 D-Tex ORCA (CSM) Coated Fabric
Sunbrella Fabric Boat Cover Available
Reinforced Alum. Lifting Eyes with SS Rings
Internal Aluminum Plate with Security Lip
Reinforced (CSM) Fabric Handles
Non-skid Rubber Floor
Reinforced Alum. Transom Towing Eyes w/ SS Rings
Reinforced Alum. Transom Tie Downs w/ SS Rings
Custom Colors & Consoles Upon Request
Overall length
18' / 5,49m
Overall Beam
7'11" / 2,40m
Inside Length
14'8" / 4,47m
Tube Diameter
22" / 0,56m
Recommended HP
90 hp / 67 kw
Maximum HP
115 hp / 85,8 kw
Shaft length
25'' / 63,5cm
Fuel Built-In Tanks
32 gal / 120 lt - EPA compliant fuel tanks, 7% reduction approx.
STANDARD EQUIPMENT
Deep "V" Marine Grade Aluminum Hull
3 Heavy Duty Transom Knees
Welded Aluminum Stringer System
Integrated Marine Grade Aluminum Fuel Tank (EPA compliant fuel tanks, 7% reduction approx.)
Non-Skid Rubber Floor Panels
Plastic External Transom Plate
Aluminum Internal Transom Plate
Aluminum Bow Eye
3-4 Aluminum Davit Lifting Points
Reinforced Aluminum Transom Tie Down & Towing Rings
Aluminum Bow Tie Down & Towing Rings
Deck Drain with Plug
Orca (CSM) 1670 Five Layer Coated Professional Use Fabric
Raised Double Solid Rub Rail
Push Plastic Non-Corrosive 2 Stage Inflation Valves
Pressure Relief Valves
1 Front & 4 Side Orca (CSM) Heavy Duty Fabric Handles on Tubes
Paddles with Aluminum Shaft
Paddle Holders
Hand Pump
Maintenance Kit
Owner´s Manual
4 Layers Reinforced Seams
Welded Aluminum Protector on Full Length of Keel
3 Inch Drain Scuppers
Non-Skid (CSM) Coated Fabric On Tube Surface
Lifeline Around Tube
OPTIONAL EQUIPMENT
Boat Cover
Bow Step with Fold Down Stainless Steel Cleat
Lateral Fold Down Stainless Steel Cleat
Fiberglass Console
Fiberglass Console with Forward Seat
Bench Seat with Storage
One Person Jockey Console
Two Person Jockey Console
Aluminum Console
Customized Aluminum Consoles, Jockey Consoles & Seats
Mechanical or Hydraulic Steering System
Stainless Steel Steering Wheel